Who We Are
Pacific Basin is one of the world's leading owners and operators of modern Handysize and Supramax dry bulk ships
We are passionate about our customers, our people and our business
Our vision is to be the global leader in minor bulk shipping and the partner of choice for customers and other stakeholders
We work closely with our customers to understand and meet their individual and changing needs
We strive to deliver an industry-leading localised, tailored and responsive freight service, and we appreciate the value of long-term relationships over short-term gain
We provide over 500 industrial producers, traders and users of dry bulk commodities with a high-quality, reliable and competitive freight service under spot and long-term cargo contracts
Our large fleet of approximately 240 ships and our network of 14 offices on 6 continents enable a truly global service for all our customers on any route, anywhere, anytime
Having our own ships, crews and in-house technical operations enhances responsiveness and seamless service and support for customers
Our company is headquartered and listed in Hong Kong
A Customer-Focused Business
With you for the long haul
Our business model is customer-focused. We offer a personalised, flexible, responsive and reliable service, and look for ways to make it easier for you to do business with us.
Our customer service is world-class, thanks to the passion shared by all our staff to deliver to the best of their ability.
We offer our customers
Reliability
Long-term partnership
Global knowledge & local presence
Face-to-face interaction
Responsive action
Scale
Flexibility
Counterparty confidence
Fast Facts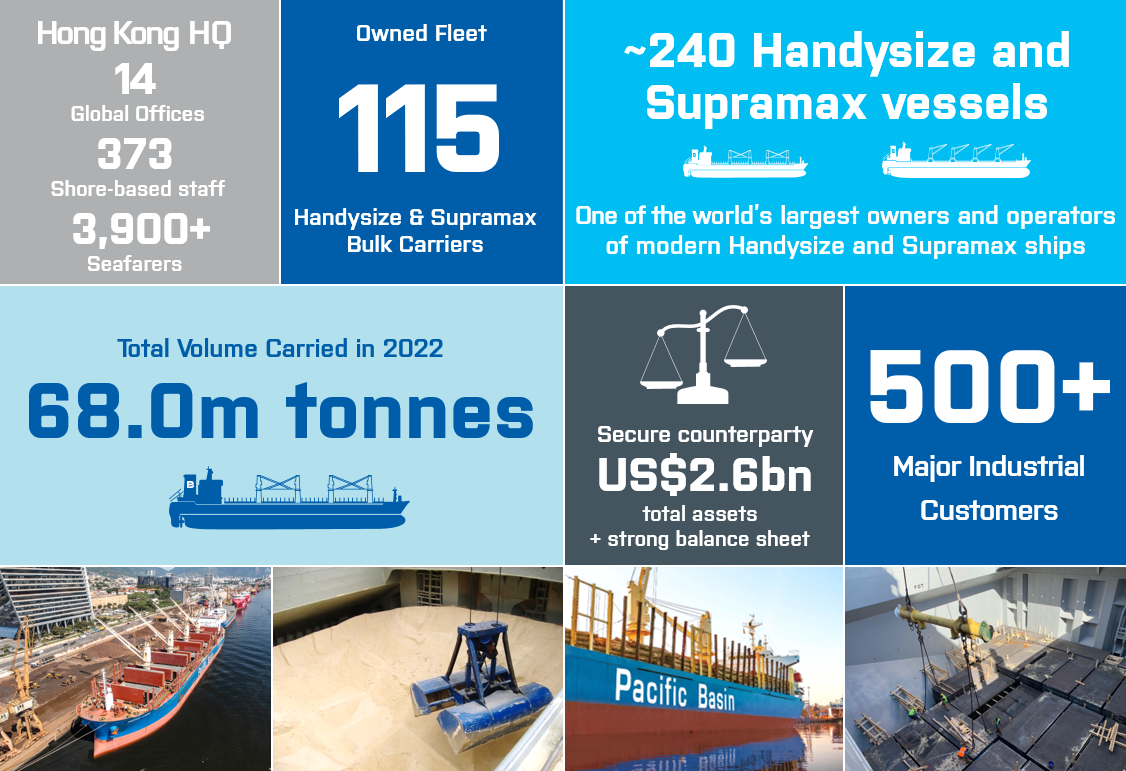 Our Strengths
World-leading minor bulk shipping expertise, solid track record and expert understanding of the shipping cycles
Customer and cargo-focused business model, high fleet utilisation and time charter equivalent (TCE) earnings premium over market rates
Robust cost control, competitive operating costs, conservative gearing and strong financial health
Commitment to strong corporate governance – sound internal controls, transparency and accountability to all stakeholders – which underpins everything we do
Together, these strengths enhance confidence in Pacific Basin as a preferred counterparty for our customers and a compelling place to invest.
Our Strategy
We have a focused strategy, robust customer-focused business model and competitive edge, supported by our key drivers:
Experienced team working across an extensive global network, sharing a passion for service
Close customer partnerships, generating enhanced access to spot cargoes and long-term cargo contracts
Large fleet of substitutable ships, facilitating reliable service and scheduling flexibility
Strong corporate and financial profile, reflecting a strong cash position and best-in-class governance, CSR and reporting
This leads to outstanding customer service, superior fleet utilisation, and enhanced TCE earnings and attractive long-term returns for our shareholders over the shipping cycle.
Our Fleet
We are ship owners and operators – we own 116 ships and operate approximately 127 more under charter.
Our fleet of around 240 Handysize and Supramax ships is one of the world's largest fleets of modern minor bulk ships.
We combine our fleet size, global office network and local understanding to provide customers with class-leading service.
All our ships are designed and equipped to fit our trades for the long term. Built mainly in Japan, they offer superior reliability, longevity, value retention and fuel efficiency.
Our award-winning in-house technical operations facilitate service quality and reliability.
Leadership
Our Board comprises 9 Directors whose complementary expertise and shared commitment to responsible investment and management practices is harnessed in the best interests of our diverse shareholders and other stakeholders.
Chairman and Executive Director David Turnbull was appointed in 2008
Chief Executive Officer Martin Fruergaard was appointed in 2021
Chief Financial Officer Peter Schulz joined in 2017
Our Team
We employ about 3,900 seafarers and 373 onshore staff
Locations
Our corporate headquarters are in Hong Kong, and our global network spans 14 offices across six continents.
Financial Highlights
As at 2022 Annual Results
(

in USD

)

:
$702m net profit
$715m underlying profit
$3,282m revenue
$935m EBITDA
$444m cash position as at 31 December 2022
$615m total available liquidity
Listing Info
Equity Stock:
Pacific Basin shares (Stock code: 2343) have traded on the Hong Kong Stock Exchange since 2004. Our stock is a constituent member of the Hang Seng sub index series and the MSCI index series, and it is eligible for Southbound Trading under the Shenzhen-Hong Kong Stock Connect Programme.
Convertible Bonds:
3.0% Convertible Bonds due 2025 (Stock code: 40097)