Our engagement in and contributions to the communities in which we operate are an important part of sustainability at Pacific Basin.
Our Community Performance in 2021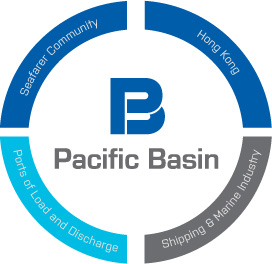 Seafarers
As one of the largest foreign employers of Chinese crew and a significant employer of Filipino crew, we invest in recruitment activities and training programmes in Hong Kong and Dalian (China) and Manila (Philippines) and Odessa. Community donations are focused on the Sailors' Society and Hong Kong Mission to Seafarers. Our Human Resources Director serves as an Asian Ambassador to the Sailors' Society to support seafarer welfare causes.
Ports
Our ships trade globally and our crew and employees act as ambassadors for Pacific Basin. Officers and crew conduct themselves accordingly as respectful and law-abiding visitors to host ports, showing warm hospitality towards visitors on board. We make every effort to establish and maintain good relations with port authorities and agents and work to exceed requirements under applicable environmental laws to minimise our impact on cities and ports.
Hong Kong
We take an active role in Hong Kong where we are headquartered, listed and where our owned dry bulk fleet is flagged. We are members of the Hong Kong Shipowners Association executive committee, the Shipping Consultative Committee of the Hong Kong Administration and the Seafarer Advisory Board. Our financial support of maritime causes in Hong Kong includes Pacific Basin's annual three-year scholarship to Hong Kong Polytechnic University for students pursuing a degree in International Transport Logistics.
The Shipping and Marine Industry
We are active contributors within the shipping community and have a voice in the international dialogue on topical issues and future legislation in our industry. Pacific Basin and its senior management ensure our regular engagement with the shipping industry and relevant governmental and regulatory bodies through membership of organisations such as:
Tackling Our Community Responsibilities
We seek to ensure that the interests of the community are represented within Pacific Basin and vice versa, which we achieve by:
Maintaining regular engagement with stakeholders and organisations connected to the shipping industry and the places and jurisdictions in which we operate.
Ensuring we comply with the laws and regulations of the jurisdictions in which we operate.
Being mindful of the implications of our business activities on our communities and stakeholders.
Donating financially to seafarer welfare organisations and thus giving back to a deserving community and a cause most closely connected to our business.