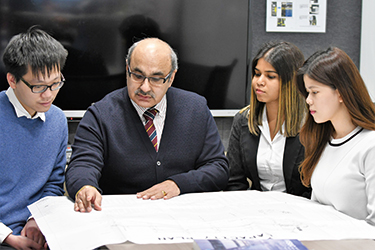 Our Trainee Programme
Our recruitment and training of international graduate and other young recruits over the years has armed our teams with keen, talented executives who are now demonstrating their value in our offices around the world. Our staff are the future and the lifeblood of Pacific Basin.
Approximately 10 graduates of different nationalities go through our trainee programme each year which combines on-the-job training with classroom teaching and rotational familiarisation throughout Pacific Basin.
From entry level positions to key positions including general managers, senior chartering managers, chartering managers, operations executives, we nurture our trainees and their career development.
Our new trainees start with 3 months of training, often including time in various divisions in our Hong Kong HQ and/or other offices. The objective of this training programme is to develop a sound understanding of Pacific Basin's functions and operations, and the ability to enter the business world and start working among Pacific Basin's regional teams and utilise our business systems and software.
Our trainees also experience life on board vessels by undertaking voyages to observe the loading, lashing and unloading of our most critical cargoes; they shadow boarding officers to grasp the importance of ships' agents; they spend time in drydocks and newbuilding shipyards; and they benefit from training sessions with law firms and P&I clubs. We arrange a variety of social and teambuilding activities.
We also provide sponsorship for enrolment and course materials, and permit study leave, for our trainees to sit their Institute of Chartered Shipbrokers (ICS) examinations.
Trainees are expected to spend at least 4 years in commercial ship operations before they can be considered for other roles such as chartering.
We accept applications throughout the year and generally commence trainee programmes in July and January to cater to different university academic years around the world.
What we look for in trainees:
Usually a fresh college or university graduate with a Bachelor's or Master's degree
Genuinely keen to be in the shipping industry
A good, confident communicator
A quick learning, hard-working team player
Never afraid to ask questions
Willing to travel and live and work overseas
Excellent written and spoken English
Experienced with commonly used software such as MS Word and MS Excel
Eligible to live and work in his/her country of recruitment
All applications must be sent to our recruiting team.