The Group has published the following documents to guide our actions and improve our performance in areas of Corporate Sustainability
Anti-Bribery Policy
Social Media Policy
Trading Restriction Policy
Sustainability Reporting Framework and Scope
The sustainability content on our website, in combination with our sustainability report, serves as a record of our main sustainability initiatives and performance highlights, focusing on environmental, social and governance areas that are material to our business and stakeholders. Our sustainability reporting follows the Environmental, Social and Governance Reporting Guide ("ESG Guide") of The Stock Exchange of Hong Kong (the "Stock Exchange" or "SEHK") as updated in December 2019, and draws on the guidelines and principles of the United Nations Global Compact and the International Integrated Reporting Council's International <IR> Framework. Our report is also prepared with reference to the Core option of the Global Reporting Initiative ("GRI") Standards.
The scope of our reporting covers the significant Environmental, Social and Governance (ESG) initiatives of our business that reduce our environmental impact, reinforce our class-leading safety culture and mitigate safety and environmental risks, enhance job fulfilment and promote responsible engagement within the communities where we operate.
Our sustainability reporting boundary focuses on the majority portion of our core dry bulk fleet that comprises owned vessels that we control both commercially and technically. Our Energy Efficiency Operational Indicator (EEOI) and other environmental and safety KPI data have been measured or calculated in accordance with industry standards, and are subject to annual audit by DNV GL Business Assurance for ISO9001, ISO14001 and ISO 45001 certifications. We also report on company-wide staff engagement initiatives and performance.

Sustainability Governance
Sustainability is a Board Responsibility
The Board is responsible among other things for the development of the Group's long-term corporate strategies and broad policies. In setting its standards, it considers the needs and requirements of the business, its stakeholders, the Corporate Governance Code and ESG Reporting Guide encompassed in the Stock Exchange's Rules governing the listing of securities.
As such, the Board has overall responsibility for, and is engaged in, the Group's sustainability strategy and reporting, including identifying, evaluating and managing ESG-related risks, and ensuring appropriate and effective ESG risk management and internal control systems are in place. Management provides confirmation to the Board of the effectiveness of these systems. The Board also reviews progress made against ESG-related goals and targets.
The Board delegates to the Audit Committee (now comprising five Independent Non-executive Directors) more specific responsibility for reviewing the effectiveness of the Group's sustainability initiatives, and reviewing the work of the Sustainability Management Committee ("SMC").
SMC Formed in 2020
The Group's SMC was formed in 2020 and comprises our CEO, CFO and six senior executives from different functions. It will report to the Audit Committee at least twice a year and is responsible for reviewing, assessing and enhancing the Group's sustainability policies, strategies and performance, and ensuring the Group is in full compliance with ESG requirements. This approach affirms and enables the Group's commitment to sustainability, and ensures that members with different backgrounds and expertise are represented to deliver meaningful outcomes.
In 2020, the SMC met three times and reported to the Audit Committee on work done during the year.
Day-to-day Implementation
Day-to-day execution of sustainability initiatives and sustainable business practice lies with managers across the business, most notably the Fleet Director (supported by his senior managers covering technical operations, fleet personnel and risk, safety & security), the Commercial Operations Director, the CFO and the Human Resources and Administration Director.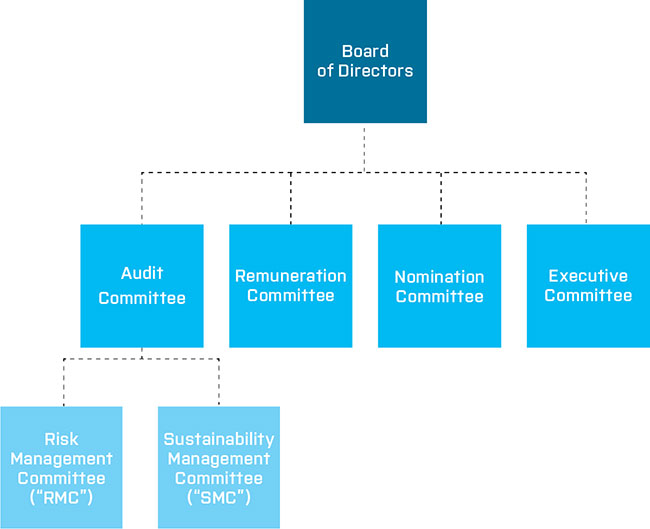 Matters of Key Strategic Focus
We assess all the issues that are material to the long-term success of Pacific Basin and the sustainable growth of our business and operations. This exercise – an analysis of opportunities and risks and how to balance them – also assists us in developing and achieving our strategic objectives. Sustainability is a key element of each of these material issues, and this is the driving force behind our long-term progress and success.
Through this process, we have identified the material issues below which are key components of our business model and key drivers of our Group's performance and long-term viability.

What is material is defined as a matter that would impact our senior management, Board and Board Committees' decisions, applying several criteria such as:
the potential economic impact of an issue on the business and its value over the short, medium and long term;
our main stakeholders' concern with an issue and its likely effect on them;
the extent to which an issue impacts society and the environment; and
the extent to which an issue is likely to grow in significance and impact in the future.
Stakeholder Engagement & Materiality
Pacific Basin listens to and often engages in active two-way dialogue with our stakeholders – primarily customers, suppliers, employees, shareholders, financiers, industry associations and regulators. In addition to our day-to-day contact with customers, we conduct annual and in-depth customer and investor surveys that provide insight about our operations and ways we can improve. We also conduct an annual ESG materiality assessment, reaching out to different stakeholder groups on a rotational basis. We also engage actively with associations that work to influence and respond to regulations that affect our industry. These engagements enable us to map issues that are of greatest importance to our business and stakeholders, and determine the key issues for discussion in our sustainability reporting.
The following materiality matrix reflects the findings of our latest ESG materiality assessment in 2020: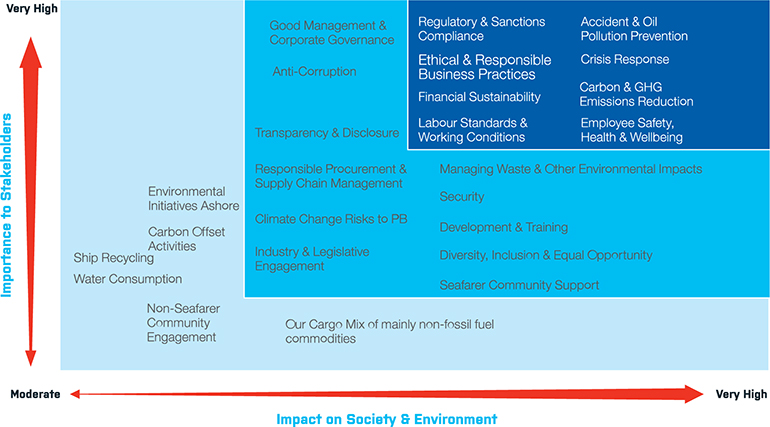 Pacific Basin operations are subject to the Group's internal rules and regulations as well as the prevailing legislations, rules and codes imposed or recommended by the relevant regulatory bodies from time to time, such as The Stock Exchange of the Hong Kong Limited, the Companies Registry, etc.
The Group has drawn up the following governance documents to elaborate on our values and our commitments to pursuing the highest standards of Corporate Governance: