A Sustainable Business Approach
We are a substantial shipping business. We draw on and impact the resources and relationships (our Capitals) on which we rely to create and protect value. As a large player with an ambitious vision for the future, we recognise our responsibilities to these Capitals, which affect the long-term sustainability of our business.
Many of our responsible actions - our commitment to Corporate Social Responsibility (CSR) - enhance our financial performance, our reputation and the future value of our business.
These responsibilities and relationships are components of the key material matters we focus on to deliver our strategic objectives. Our active approach to CSR is rooted in our culture and, governed by our policies and systems, integrated into our daily business behaviour and operating practices.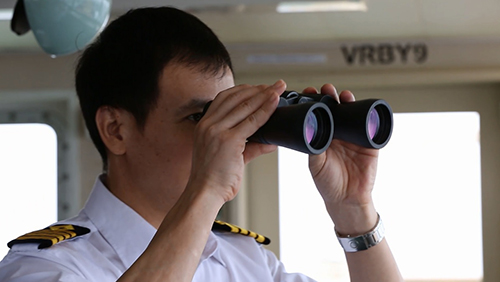 Key Material Matters  Our Resources in Action 
Our CSR initiatives are guided by broad strategic objectives that relate to:
workplace and operating practices (Human Capital)
environmental stewardship (Natural Capital)
community engagement (Social and Relationship Capital)
These responsibilities are core to our culture, strategy and long-term vision. Our spirit and culture turn our sustainability efforts into reality and make a difference within and outside of our organisation.
Our CSR initiatives enhance safety and workplace fulfilment, minimise our operations' environmental impact, and enrich engagement with the communities in which we operate.
Community Engagement 
Recognising our obligations as a responsible member of the communities in which we operate
CSR Highlights 2019
Human Capital
Natural Capital
Social & Relationship Capital

Our Impact in 2019

Healthy working conditions, a strong safety culture, opportunities to advance and responsible business practices are the foundations of how Pacific Basin operates.

Our Impact in 2019

Propelling vessels across oceans requires a number of resources or inputs, the consumption of which results in outputs that impact the environment.

Our Impact in 2019

We are responsible members of the communities where our ships call and where our employees live and work. We are engaged members of our industry.

3,900+

seafarers

11,800,000

nautical miles travelled

768

ports across 110 countries

345

shore-based employees

855,600

tonnes of fuel/gas oil consumed

12

office locations worldwide

Our Performance

87%

Seafarer Retention

8

ships per Safety & Training Manager

45%

shore staff received external training

Our Performance

10.49

grams of CO2 per tonne-mile

1.41m

tonnes of CO2 emitted by our owned fleet

8

efficient modern ships joined our owned fleet in 2019

Our Performance

US$85,000

charitable donations and sponsorship – mainly for seafarer welfare causes

"The Captain and Chief Officer had a thorough knowledge of their vessel and were well versed in the intricacies of log loading. The Crew were well trained and drilled, happy, always smiling and willing to go the extra mile."

Message of appreciation from one of many ports where our ships trade

Our Strategy

We strive to create a culture of safety, innovation and teamwork across our fleet and business enabling our employees to thrive and make a difference.

Our Strategy

Our sustainability initiatives seek to reduce our most material outputs and impacts on the atmosphere and marine environment; we also seek to reduce waste by minimising what we consume both at sea and ashore.

Our Strategy

We advocate and engage with organisations and other stakeholders that are involved in or connected with the business of shipping and the places where we operate; we follow applicable laws and responsible business practices.
Corporate Governance

Good Corporate Governance enhances stakeholder confidence in Pacific Basin as a partner and a place to invest.

What good governance means to us 

Our CSR Approach

CSR is about recognising our responsibilities to the safety and wellbeing of our staff, the environment and the communities in which we operate.

Find out more 

2019 CSR Report

View our CSR Report

(

PDF

)

