Our environmental philosophy is centred on our commitment to being a responsible company at the forefront of environmental efforts within dry bulk shipping.
We have embedded across our global footprint at sea and ashore environmental programmes and initiatives that embrace environmental stewardship and, specifically, serve to reduce our atmospheric emissions, marine discharges and resource consumption. Broadly speaking, we achieve this by:
Adopting environmentally-friendly and energy-efficient technologies and practices across our business
Pursuing environmental initiatives at sea and on land that meet or go beyond what is required of us by law and regulations
Promoting more modest practices even if they bring only small benefits to the environment, as even individual contributions make a difference
One of the ways we reduce the environmental impact of our operations is by our gradual fleet renewal and our efficient operation of modern ships designed and equipped for efficiency.
Environmental measures embraced by our employees at sea and ashore include training and defined policies and practices such as reducing our consumption of electricity, water and other materials, and recycling.
Our policies and guidelines are designed to promote environmental awareness, mandate environmentally-friendly activities and promote similar behaviour at work and in the communities where our ships trade and our employees live and work.
The first step to improving the environmental performance of our fleet is to monitor, measure and analyse the outputs of our vessels. From there, we can assess and adopt measures to reduce our environmental impacts, with performance improvements achieved through both technical and operational enhancements.
As the world decarbonises, Pacific Basin will continue to carry the non-fossil fuel commodities that will be the mainstay of future global seaborne trade.
Bulk carriers are by far the most energy-efficient mode of transportation, meaning also that they generate significantly less carbon emissions per tonne-mile of cargo carried than any other vehicle using fossil fuels. However, we recognise that propelling a vessel across oceans requires resources and impacts the environment, and we want to do our bit to constantly find ways to reduce our environmental impact. The IMO continues to roll out regulation to facilitate such progress across our industry.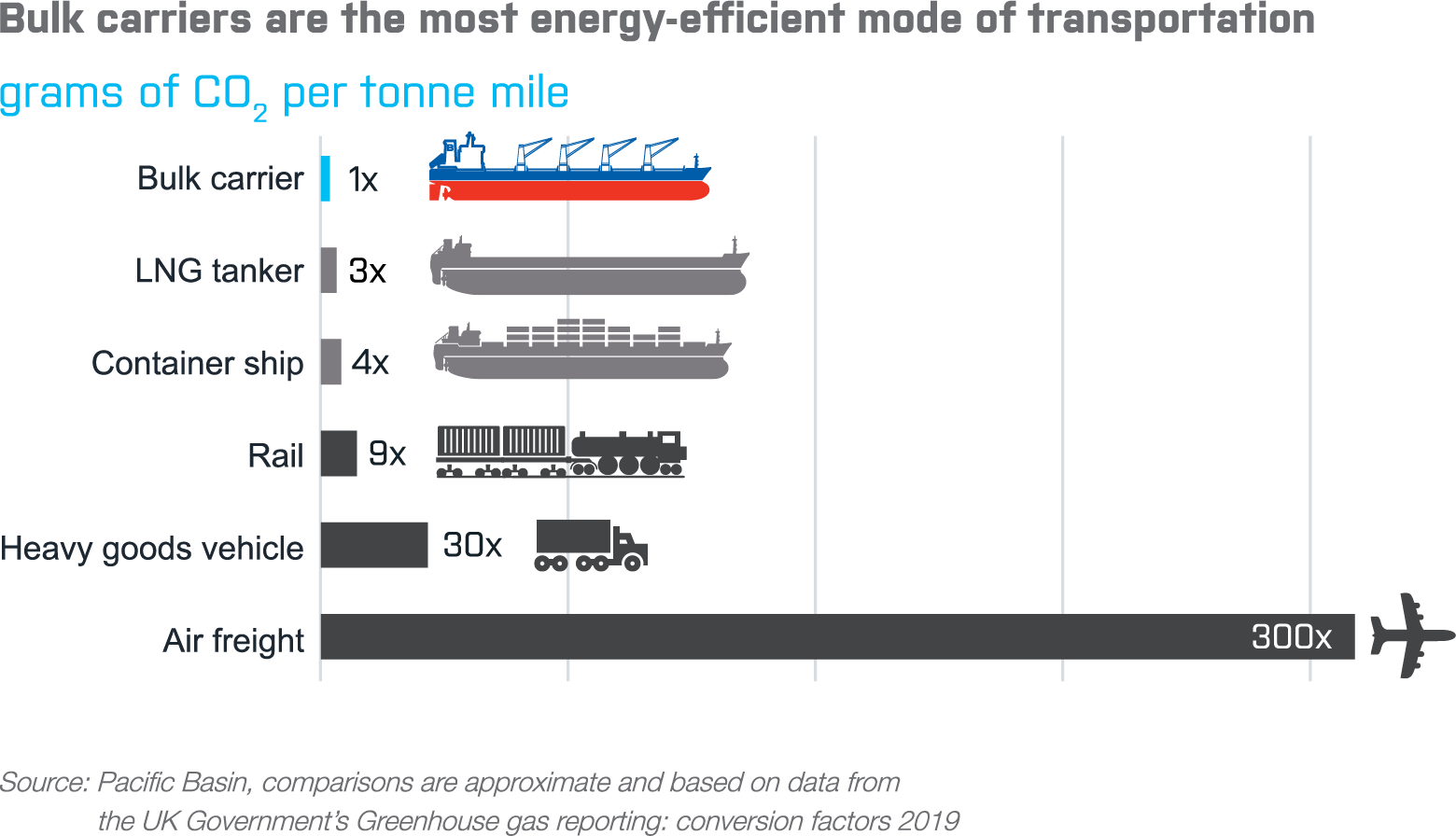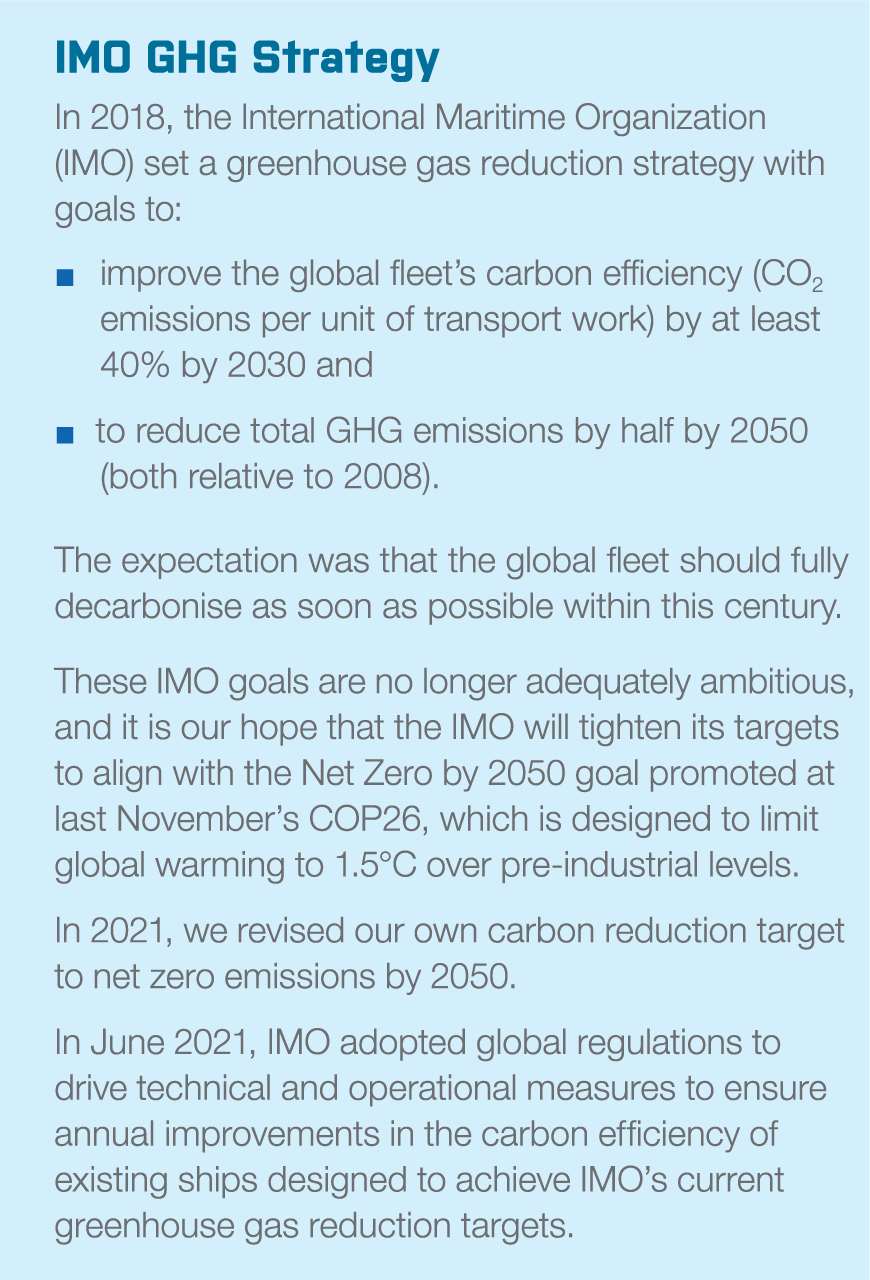 Tackling Environmental Responsibilities
We seek to minimise our impact on the environment from atmospheric emissions, resource consumption and marine discharges.
Carbon Emissions & Fuel Efficiency
Maintaining our high laden-to-ballast ratio
Our ships are laden with cargo for over 90% of the time because our fleet uniformity and scale and our ship operating and cargo expertise enable us to optimally schedule and combine our ships and cargo for high laden utilisation. That is a significant advantage compared to similar ships in our segment which spend more time in ballast.
Modernising our fleet by gradually trading up to younger, larger, more energy-efficient ships
We renew our fleet through our largely counter-cyclical acquisition of modern Japanese-built or designed second-hand vessels with fuel-efficient hull designs and machinery and the best designs for our trades.
We will not contract newbuildings until zero-emission-ready ships are available and commercially viable in our segments and the appropriate refuelling infrastructure is being built out globally
Adoption of latest energy-efficient operating measures
Fuel-efficient voyage planning using the latest Continuous Weather Routing services
Reducing rudder movements and improving course-keeping using advanced self-tuning autopilot systems to automatically adapt to load and weather characteristics
Avoiding unnecessarily high engine torque in bad weather conditions using real-time propeller-curve displays
Improved trim and draft optimisation to reduce hull resistance
Optimising hull cleaning frequency (for reduced drag) using detailed analysis of vessels' speed and fuel consumption performance over time
Computer-aided optimisation of cylinder lubrication and machinery overhaul intervals leading to reduced fuel consumption
Slow steaming at optimal operating speeds
Adoption of latest energy-efficiency technologies on our ships
Fitting propeller boss cap fins, non hub-vortex propellers, rudder bulbs and Mewis ducts to improve propulsion hydrodynamics
Reshaping propellers for reduced fuel consumption and/or improved torque characteristics
Optimising combustion pressure by engine tuning
Applying anti-fouling paints over a larger hull area to reduce drag even when fully laden
Retrofitting LED lights throughout our ships' accommodation blocks and engine rooms
Supporting the development of potential zero-carbon fuels and vessels
We engage regularly with the classification societies, engine manufacturers, shipbuilders and other stakeholders who are more directly involved in new fuels and new propulsion R&D, and we also engage with other ship owners and operators who are similarly interested in tracking and contributing to this industry discussion with input from the user's practical perspective.
We are members of the Getting to Zero Coalition of over 120 companies committed to exploring how to achieve the goal of developing and rolling out the first deep-sea zero-emission or carbon-neutral ships by 2030. Ammonia and methanol synthesised from green hydrogen are currently among the front-runners in a short list of potential fuels for shipping.
Voluntarily offsetting our emissions with carbon credits
Despite all our initiatives to continually improve our carbon intensity, our operations will still generate carbon emissions for years to come. We wish to offset at least some of these unavoidable emissions and, in 2021, we launched our PB Carbon Neutral Voyage Programme for our customers. We have voluntarily and fully offset the carbon emissions from our global onshore operations in 2021. For more information about our PB Carbon Neutral Voyage Programme, please refer to our Sustainability Report.
For information on our management approach and initiatives addressing other air emissions, marine discharges and waste management, please refer to our Sustainability Report.